If you've recently experienced a breakup and are having trouble moving on from the relationship, you're not alone. Moving on can be tough and take time. Everyone is different when it comes to taking the time he or she needs to properly move on and get on with your life. The important thing, however, is that you do indeed move on. If you can't move on, then you're going to remain stuck in the past dwelling on the past relationship and essentially prevent yourself from going forward and forging a new path in your life. So, if you do find yourself having a hard time with moving on, consider using these helpful tips to aid you with putting the past behind you and getting your life back.
Acknowledge Your Baggage and Let it Go
All past relationships come with baggage. And the longer you were in a relationship that has since broken up, the more baggage you're likely to have obtained. This baggage can be a mixture of things. From depression, sadness, and disappointment, to feeling like you're just a failure at relationships, that baggage can get hard to carry around after a while. It's important that you acknowledge that you have that baggage, and then start letting it go. Let yourself cry it out, meditate, take up a new hobby. Do what it takes to make you eventually forget about that baggage and focus on the positives in your life.
Recognize That You Hadn't Found the Right One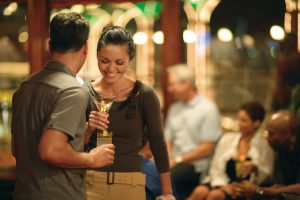 Of course, we all would like to think that our current partner is the right one, or maybe even the one. But that's not always the case, hence why breakups happen. If you had too many problems and disagreements in your relationship that the two of you just couldn't seem to get past, then that person wasn't the right one for you. Don't fixate on your past feelings. It's time to move on and get in a positive frame of mind so that you can get out there and be on the lookout for the real right one for you.
Confide in Your Friends
Moving on is a process, and that process doesn't have to be done alone. So, make sure you confide in your friends and let them know what you're feeling. Talking with a friend who understands what you're going through is a great way to get out anything negative you've been holding in. And chances are, they will be more than willing to offer you the support and love needed to help get you back on track.
Reduce Contact and Seek Closure
Moving on means reducing the contact you have with your ex until you have no contact with him or her whatsoever. The best way to reduce your contact is to seek closure. If you're able to seek closure about a past relationship, then it will be much easier to move on. Then there will be no more need for contact as well.
Take on Something You Love Doing
One of the best ways move on from something negative is to do something positive. Do something you love. Is there a hobby or activity that truly brings you joy? It's time to partake in that activity. Or you can take up something new. Perhaps there a hobby you've always wanted to try out. It's a great way to take your mind off things and help get you moving forward.
Get Out and Meet New People
Meeting new people is a great way to help you on from a break-up. Whether you end up making new friends or even finding a new love interest, it's always a positive thing when you get to meet someone new. When you're trying to move on, staying cooped up inside while thinking about all the negative thoughts in your head is not going to help you in any way. Instead, get out there and meet some new people. It's sure to do wonders for you and help boost your confidence.
Know That There is Someone Out There for You
It's easy to get down on yourself after a break-up. And it's easy to get into the mindset that maybe there just isn't someone out there meant for you. It's important to stop this mindset immediately, because it's definitely not true. You just have to recognize that there is someone out there for you. So, don't give up on looking. Let yourself move on from the past and allow yourself the opportunity to start fresh and be ready for the one you're meant to be with.